Organize a successful user test in 5 steps
13 January 2023
Do you want to organize a user test, but you don't quite know where to start? We can help you out with this.
If you are facing linked innovation challenges, make sure to visit our page to see how we can help you with that too. For user testing, we at The House of Marketing, use an approach of 5 steps which we will share with you below.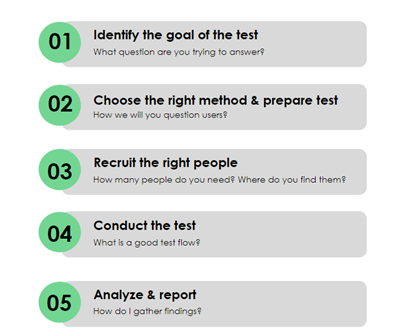 1.    Identify the goal of the test
The first question you (and your team) need to ask yourselves is: what question are we trying to answer with this test? It is important to start with a clear hypothesis. Describe as clearly as possible your testing scenario and make it clear through an outline of your research question. You should define what you want to test and how you want to do it. Some examples are: 'which features should be included?', 'Is there a willingness to pay for this product'? Also, make sure to start with the end in mind: think about how you will analyze your experiments or tests and which OMTM to track and measure.
2.    Choose the right method & prepare the test
Choose the right research method(s)
There is a multitude of techniques to choose from. Think about interviewing, observing, generative tools… or even a combination! You will want to select the method that answers your research question the best. This will mainly depend on the maturity of the knowledge & insights you've acquired in the past.  An important part of that choice is deciding whether you need qualitative or quantitative data. When you truly want to understand the customer's needs and the motivations behind their choices and preferences, we would suggest you investigate qualitative methods (first). When opting for quantitative research, your questions are more limited. Mostly because of the time and the amount of attention interviewees can give.  Ideally, you have a good direction as to which key assumptions are left to be validated. To reach statistically significant results, you'll need a large sample. Bear in mind that processing this could also require a large effort Consider if you want to do the research yourself, or if you want to externalize it. If you are not an expert, the latter might be your best option.
Prepare your prototype (or multiple versions)
When you do user tests, you will need well… something to test. Sometimes this can be easy, like building landing pages, an ad, or a newsletter prototype. But sometimes that is not sufficient. When you want to design more elaborate visualizations of your product, service or experience you could use a handy tool or template like Canva, Figma, or Miro. We could also help you in the prototyping process by putting our heads together with Upthrust its digital studio. Consider outsourcing the design of your prototype to experts, this could save you time and increase the quality of the test result.
Depending on what you are testing and with what method, you can decide the ideal location for your test​. This could range from a remote setting to a specialized facility with single-sided mirror.
3.    Recruit the right people
Now that you've defined your user testing set-up, you're ready to start recruiting the right people to interview. A few points that matter here are defining the 'right' in the right people, where will you recruit them, and how many people you need.
Who are the "right" people?
Always go back to your persona. Whom are you targeting with your product or service? This helps you to define characteristics to find the respondents you need. Keep in mind that it can be interesting to look broader than your current customer base. Understanding how a potential client interacts with your offer is extremely valuable. Recruiting can be externalized, which again saves you a lot of precious time.
A true pitfall is to only recruit within your own network. You most certainly will end up with biased results, except of course if you are targeting them with your solution. A better option is to use your existing customer base; you can contact them through your existing communication channels. (Keep in mind the pressure rate) If you want to recruit externally you might use online advertising, test, and learn to find out which targeting works best for recruiting purposes. You might also consider an external agency to help you out.
How many people do you recruit?
They say 5 is the magic number. Jakob Nielsen already analyzed back in the 1990s that in 83% of his studies, 85% of the problems were observed after just five people. Keep in mind that this is mostly true for qualitative testing. As mentioned, you will need a bigger sample size for your quantitative user tests. Up to you of course how many you will recruit in the end.
4.    Conduct the test
Conducting the user test itself could be split into 5 steps. We can provide you with multiple use cases where we applied these 5 steps to see how it happens. First, it starts with setting the right introduction, and second, setting the stage properly. As a third step, you need to invest time in explaining the prototype you are testing, unless you want to explicitly test without giving context, for example through observation techniques. Always ask open questions and make sure the users feel safe to think aloud. Never forget to end with a good debrief and recap what has been discussed.
5.    Analyze and report
Think about the best way to analyze your results. The approach will depend on your research method applied in the previous steps. In any analysis, it is good to check for similarities, differences, and extremes. As a final result, you want to have a full report and most of all action steps defined on what is next.
Eager to know more about how we can help you? Or do you want to discover our Innovation circle and get in touch with our experts? Just follow the path and find out everything you can do with the help of The House of Marketing.
Other
relevant
Posts
Discover smart tips, personal stories and our take on the latest marketing trends
Let's push your marketing strategy to the next level!
Switch to a higher gear with our strategic marketing consulting or interim management services.
Start your project